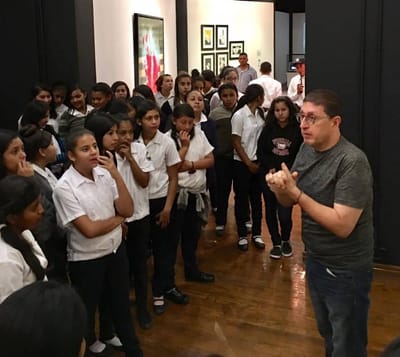 Expressiones is a non-profit organization dedicated to providing the community with quality artistic programming.
We celebrate diversity by inspiring the community to immerse themselves in the music, art, and customs of our multicultural population.
Expressiones main program is ArtVenture, which provides culturally competency, relevant and unique experiences, bilingual arts and educational programming for children in New London Public Schools, and in after-school sessions in New London. This program serves to bridge cultural gaps between the diverse communities in the area and to provide arts and other educational programs for children in New London, including a large and growing population from low income families.
The population served includes among all of them the underserved Latino or Hispanic children in New London. We use the Artists-in- Residence recruited by Expressiones from Latin-America and other professionals.
Expressiones is committed to providing a safe environment which addresses the needs, expands the abilities, and encourages aspirations of the people of Southeastern Connecticut by mobilizing the power of volunteers and the generosity of donors.
The two primary goals are:
(1) to increase the cultural competency and awareness of low- income children and families, including the growing Latino population, and
(2) to introduce the non-Latino population to the richness of Latin American arts and culture.
In 2017-2018, Expressiones Artists-in-Residence worked with K-12 students in New London Public Schools through collaborations with different classroom teachers. Over 50% of students are Hispanic, and 78.8% qualify for free or reduced priced meals. 28.7% of the district's students come from homes where English is not the primary language.
The overarching goal of our program is to support community engagement, providing an intensive, hands-on in art, science, history, geography, and math curriculum that emphasizes discovery, critical thinking and problem solving.
The residency programs offer resources to artists and provide opportunities for our diverse community to strengthen their ability to pursue lifelong learning.